Surrounded by posh abodes worth north of $500,000, the 117-year-old home at 8 Park Drive in the Chicago suburb of Glenview can be yours for a mere dollar. The catch? The buyer has to uproot the massive structure and move it to a new site.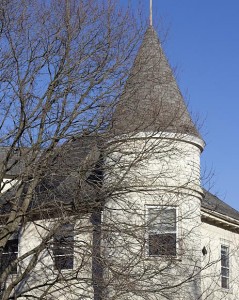 The owner of the home, the Glenview New Church, wants to redevelop the property. If a buyer doesn't come forward soon, the home likely will be torn down. The Queen Anne-style dwelling lacks a landmark designation even though it possesses significant historical value. It was designed and owned by Hugh Burnham, Glenview's first village president and the nephew of the famed city planner of Chicago, Daniel Burnham.
According to Trulia, the annual property taxes on the uninhabited home are a steep $12,713, which may explain why the pastor of the New Church described the residence as a "money pit" in an interview with TribLocal.