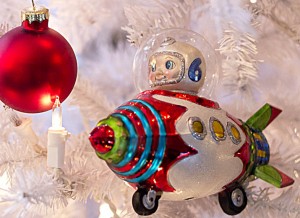 The jack-o'-lantern has collapsed on itself, signaling the beginning of the holiday season in our household.
I'm the anti-Clark Griswold in that I've never felt the urge to put up outdoor lights for the holidays. I appreciate looking at a festively illuminated yard as much as the next person; my opposition to hanging exterior lights has more to do with my fear of heights and electrocution.
Nonetheless, this year I cast my fear aside and, in an effort to please my daughter and wife and avoid being the neighborhood Scrooge, strung multi-colored lights in an inverted-V shape across the roofline of our home. It required an act of derring-do, as I had to stand on the topmost rung of an extension ladder and use grilling tongs to affix the lights to a hook at the roof's apex. And I fully expected to get a high-voltage shock when I plugged in the three connected extension cords that were required to reach our home's one exterior outlet. But I emerged from the task unscathed, neither falling from the ladder nor getting electrocuted.
It's a modest display of lights — so modest that I'm not going to embarrass myself by sharing a photo of my work (instead I've included a photo of my favorite Christmas tree ornament).
Perhaps next year, with my young daughter reaching an age when she's able to not just recognize lights but also judge their merits, I'll strive for a more ambitious and artful display. As for this year, the task is done and I'm moving on to gift buying and card writing.